---
E X H I B I T I O N
" S I L V E R ..C A L L I G R A P H Y "

Achyut R. Palav/INDIA – Katharina Pieper/GERMANY
Celebrating 25 years of Artistic Amity
1st to 7th November 2011
Nehru Centre Art Gallery, Dr. Annie Besant Road, Worli, MUMBAI 400 018
I N D I A

Panorama photo (by Raju Shukla) of our exhibition in the Nehru Center Art Gallery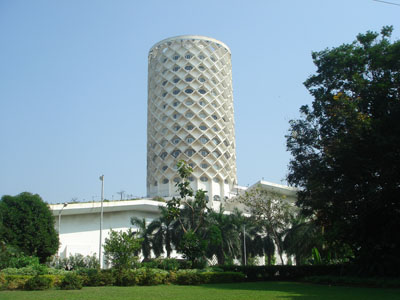 ...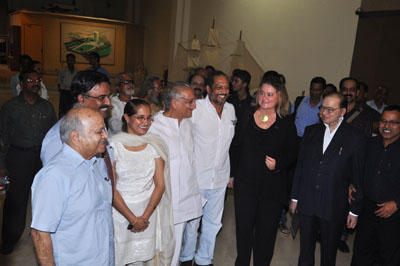 Eminent people came to inaugurate the exhibition: poet, writer and Oscar-price-winner Gulzar, actor Nana Patekar,
Shri Eknath Thakur, Dr. K.K. Menon, here together with Achyut Palav, Shraddha Palav and Katharina Pieper.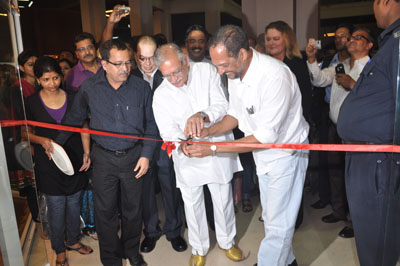 ...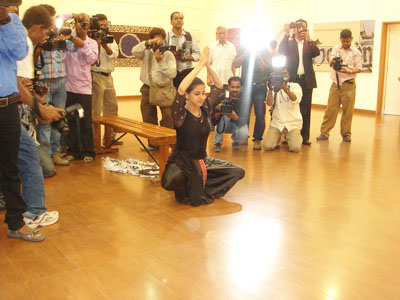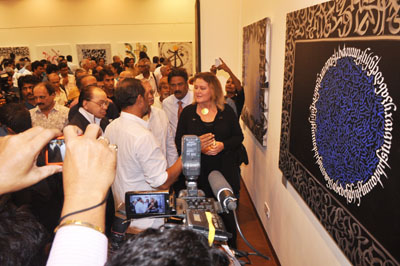 ...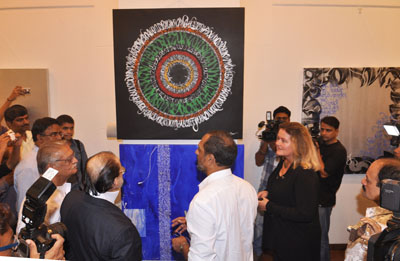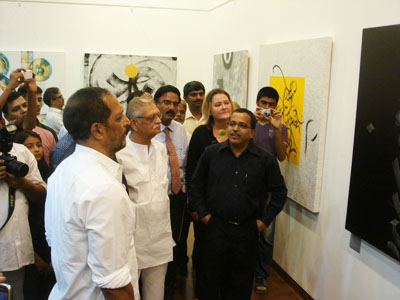 ...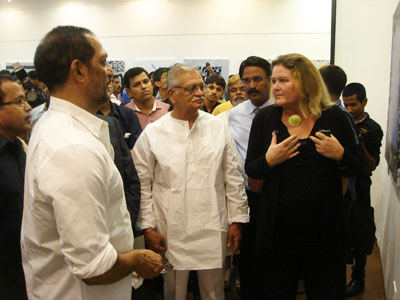 accompanied by numerous journalists from the press we went together through the exhibition and were talking about our works and about calligraphy.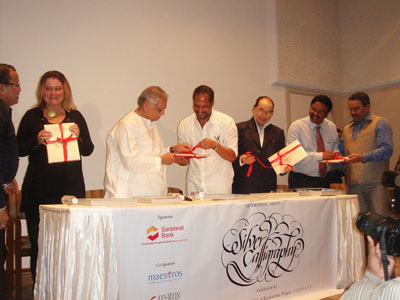 ...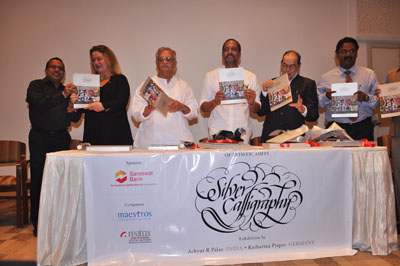 Big surprise, the catalogue!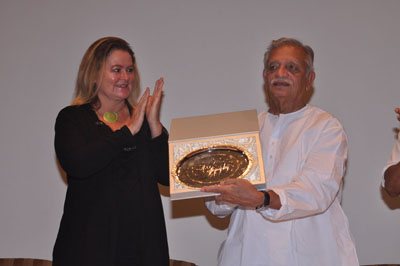 ...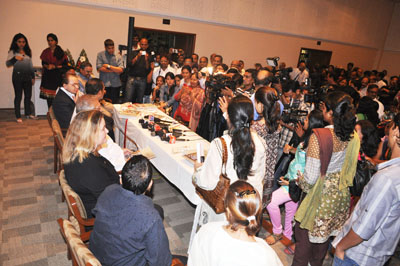 A silver plate with the name of the exhibition and our names - brilliant! Press conference after the inauguration ceremonies.
Many newspapers and television channels were talking about our exhibition the day after the opening.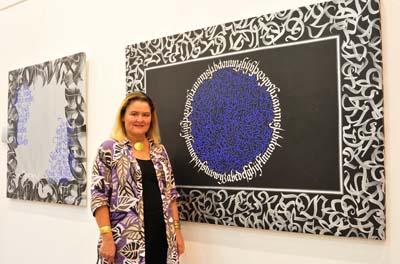 ...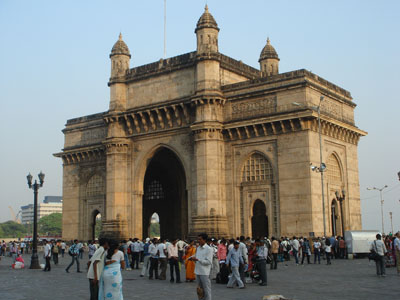 In front of the biggest canvas with "Fraktur" Letters. Right the Gateway of India in Mumbai.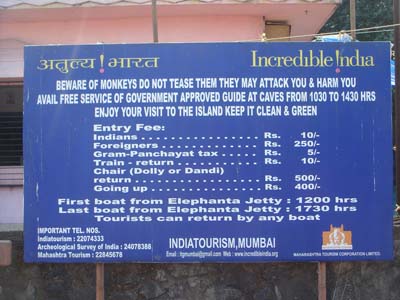 ...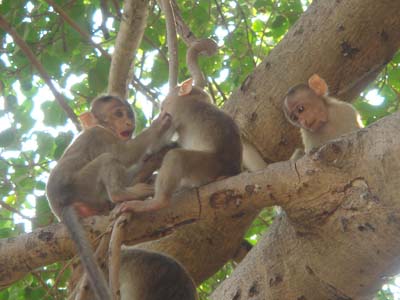 Left: look at the different prices for Indian people and for foreigners! Right: monkeys on Elephanta Island.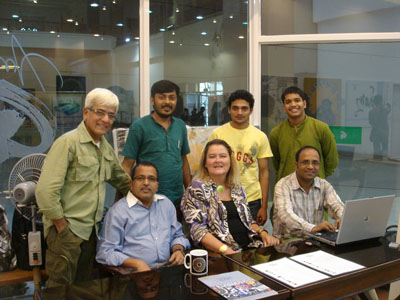 ...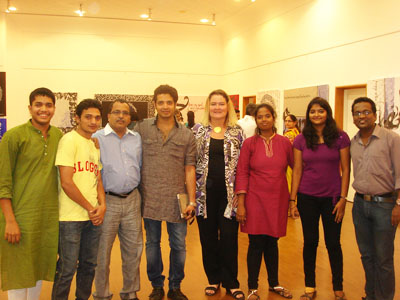 photographers, friends, colleagues, students and family.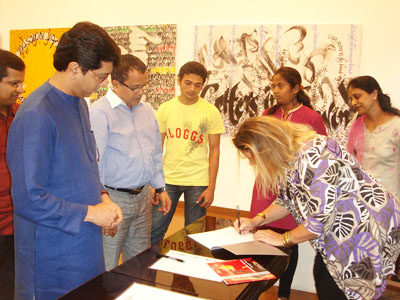 ...
Raj Thackray, artist and member of the Government of Maharashthra - signing the catalogue (hundreds of times during the exhibition!)
Right: The gallery was always crowded, specially by young people and students.
...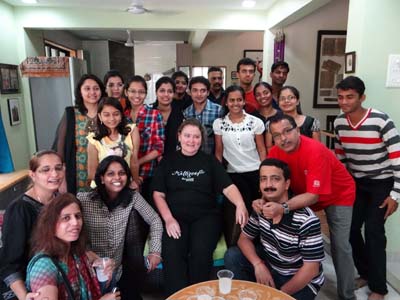 Demonstration at the house of Achyut Palav for his "School of Calligraphy".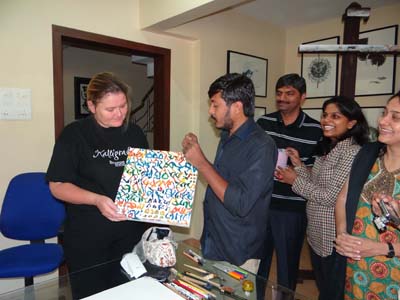 ...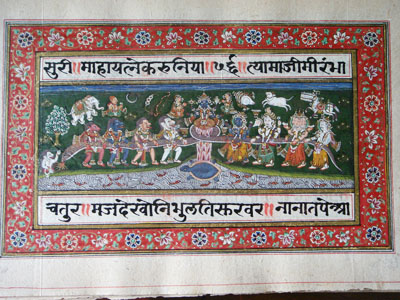 Left: personal present from Kuldeep Koregaonkar, painter & artist.
Right: old manuscript in the Library of Poona.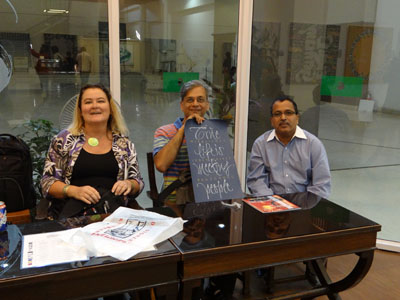 ...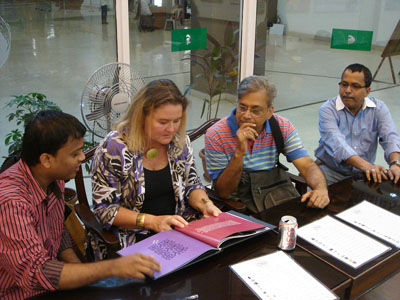 "True life is meeting people" - calligraphy by Prof. Werner Schneider. With Prof. Vinay Saynekar after 25 years when we met the first time in Wiesbaden.
Kalpesh Goshavi, student of the J.J. Institute of Applied Art, showing his work, a book dedicated to Prof. Saynekar.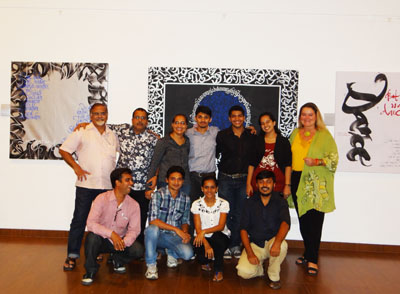 ...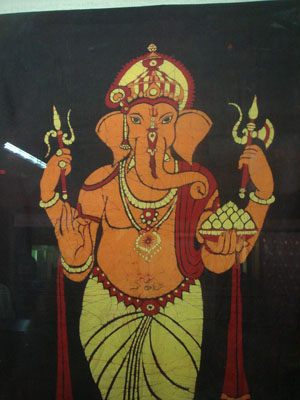 and again: friends, helpers, colleagues & students. Right: Ganesha on silk in the Museum of Poona.
...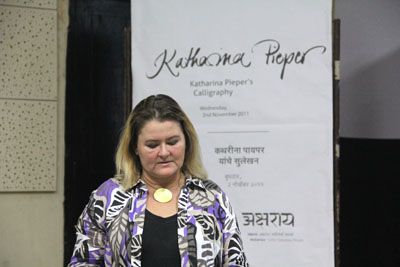 left: poster designed for my lecture at the famous Design School Sir J.J. Institute of Applied Art in Mumbai,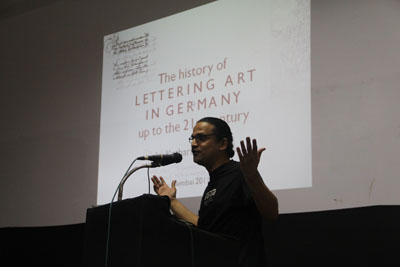 ...
Prof. Santosh B. Kshirsagar is doing an introduction to my lecture,
the typographic association AKSHARAYA presents his work and printed products.
more Informations about the lecture on the website of Aksharaya, Sir J.J. Institute of Applied Art, Mumbai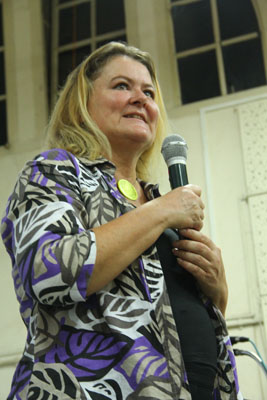 ...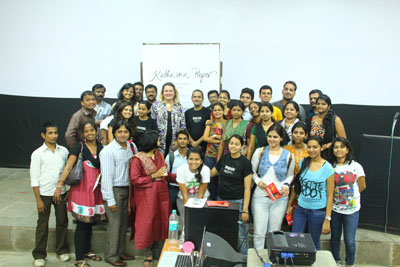 Thanks to Sarang, Yogesh and Noopur for collecting the pictures and Santosh for sending them.
Poster for a presentation at the Symbiosis Institute of Design at the University of Poona.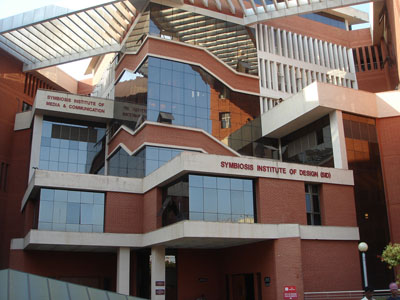 ...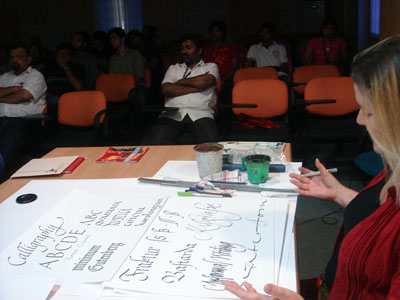 Symbiosis Institute of Design and the teacher of painting and calligraphy, Prof. Manohar Desai. Giving a lecture in front of students and teachers.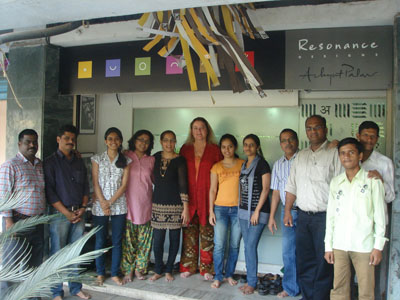 ...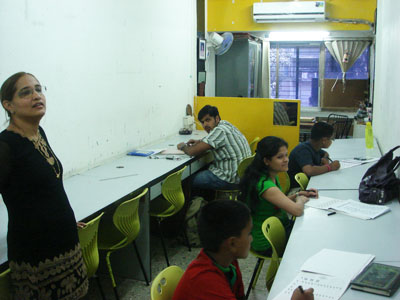 Resonance Studio of Design in the Belapur Stadion Complex, run by Achyut Palav and his wife Shraddha with 9 employees.
Right: Achyut Palav's School of Calligraphy, formerly the studio of the Palav's.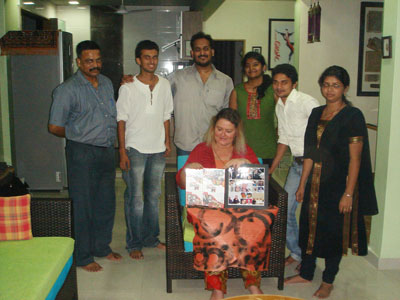 ...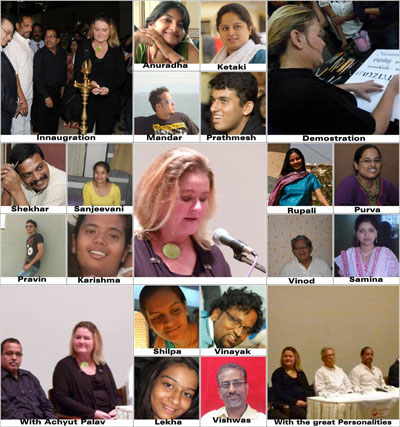 Last day: again visit of some students and teachers of the Calligraphy School and again surprise: big gifts and a souvenir picture (right) by Anuradha Koshimkar.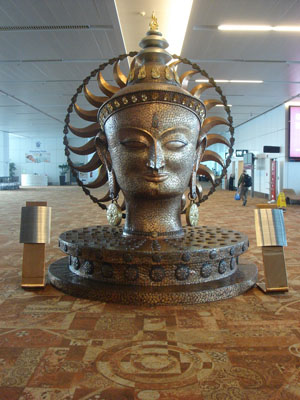 AN UNFORGETTABLE, MARVELLOUS TIME...
---
Nana Patekar Praises Calligrapher Katharina Pieper & Achyut Palav
(Youtube Video by The Bollywood Channels)
and more videos by The Bollywood Channel
other video about the opening ceremony

photo stream by "Bollycurry"

____________________________

---
zurück zu Ausstellungen von Katharina Pieper/back to EXHIBITIONS of Katharina Pieper

back to "AKTUELLES & NEUES"
---
TOP