---
Curriculum Vitae Katharina Pieper
Born 1962 in Saarlouis, now living in Homburg/Saar.
STUDIES
1982 - 1987 studies in Communication Design at the University of Applied Sciences Wiesbaden, where she learned all the basic artistic techniques like drawing, painting, typography, calligraphy, photography, printing techniques, etc.
1987 earned diploma (equivalent to Master of Arts) under Prof. Werner Schneider. Additional studies in lettering and calligraphy, also in Japanese, Chinese, Korean, and Turkish calligraphy.

TEACHING & WORKSHOPS
Since 1988 Katharina has tought courses at several institutions:
- University of Cooperative Education Ravensburg (2003 to present).
- University of Applied Sciences, Mainz (1988 - 1996),
- University of Fine Arts, Saarbrücken (1989 - 1998),
- University of Applied Sciences, Wiesbaden (1995 and 1998)
- School of Applied Art Fachhochschule Hamburg, as visiting professor for the Pentiment Summer Academy (1995 and 2004)

Since 1991 Katharina has been regularly invited to give workshops and courses in Germany, France, Belgium, the Netherlands, Iceland, Switzerland, and Italy. She is one of the few German Calligraphers who has also tought in the United States, England, South Africa, Finland, Korea and most recently in India.

Katharina Pieper has been teaching since 1991 at the Werkstatt für Buch und Gestaltung Limbacher Mühle and since 1998 at the Free Art School Artefix in Homburg.
see also:
list of workshops leaded by Katharina Pieper since 1988







ARTISTIC WORK

In her own artistic work Katharina Pieper is dedicating to spiritual texts of authors from West and East which she brings on paper, into artist books and on canvas of larger sizes.
1998 she received the International Award of Calligraphy of Westerlo/Belgien, and since 2000 she has been a jury member of this Award.
EXHIBITIONS
Since 1987 Katharina she has published her calligraphic work worldwide in exhibitions, not only in her own country but also in Belgium, the Netherlands, France, England, Switzerland, Italy, United States of America, Iceland, Australia, South Africa, Finland, Poland, Lithuania and most recently in Russia, India and Korea.
(see Exhibitions)


WORK IN COLLECTIONS
- Klingspor-Museum Offenbach,
- State Library of Lower Saxony Hannover,
- Library of Bruges/Belgium,
- German Book and Lettering Museum Leipzig,
- Academy of Arts, Calligraphy Collection, Berlin, here
- San Francisco Public Library,
- Contemporary Museum of Calligraphy, Moskau here
- Fitzwilliam Collection of Contemporary Calligraphy in Cambridge. here
- Department of Culture and Information, Museum of Calligraphy, Sharjah, United Arabian Emirates
- Government of the state Maharashtra (Mumbai), India

PUBLICATIONS
In 1991 her book Schrift Schreiben was published, and since 1989 she is writing for different technical publications and journals in Germany, England, Belgium, Austria, America and Switzerland.

1996 Katharina founded her own edition to publish her calendars, books and cards.
see publications






ORGANISATION
Katharina is very active in a number of International calligraphy organizations. From 1997-2003 she was president of the International Society for Literature and Calligraphy – ARS SCRIBENDI, and responsible for editing and design of the Society journal Ars Scribendi.
MEMBERSHIPS
- Allianz Deutscher Designer AGD,
- German Press Society DPV,
- Swiss Society of Calligraphy;
- Letter Exchange, London;
- Kalligrafia, Belgium;
- Scriptores, Netherlands and Belgium.
- Association of Friends of the Klingspor-Museums e.v.,
- Gutenberg-Gesellschaft Mainz.
- Gesellschaft für Deutsche Schrift und Sprache (Society for the German Script and Language)
- Fellow Member of the Calligraphy and Lettering Arts Society CLAS, London,
2007 elected as Honorary Fellow Member of the Calligraphy and Lettering Arts Society CLAS, London (as one of only three German members and the only German woman.)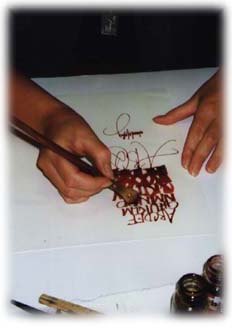 ---
Kalligrafie Kalligraphie calligraphy calligraphie Kalligrafie Kalligraphie calligraphy calligraphieKalligrafie Kalligraphie calligraphy calligraphieKalligrafie Kalligraphie calligraphy calligraphieKalligrafie Kalligraphie calligraphy calligraphieKalligrafie Kalligraphie calligraphy calligraphieKalligrafie Kalligraphie calligraphy calligraphieKalligrafie Kalligraphie calligraphy calligraphieKalligrafie Kalligraphie calligraphy calligraphieKalligrafie Kalligraphie calligraphy calligraphieKalligrafie Kalligraphie calligraphy calligraphieKalligrafie Kalligraphie calligraphy calligraphieKalligrafie Kalligraphie calligraphy calligraphieKalligrafie Kalligraphie calligraphy calligraphieKalligrafie Kalligraphie calligraphy calligraphieKalligrafie Kalligraphie calligraphy calligraphieKalligrafie Kalligraphie calligraphy calligraphieKalligrafie Kalligraphie calligraphy calligraphie Kalligrafie Kalligraphie calligraphy calligraphie Kalligrafie Kalligraphie calligraphy calligraphieKalligrafie Kalligraphie calligraphy calligraphieKalligrafie Kalligraphie calligraphy calligraphieKalligrafie Kalligraphie calligraphy calligraphieKalligrafie Kalligraphie calligraphy calligraphieKalligrafie Kalligraphie calligraphy calligraphieKalligrafie Kalligraphie calligraphy calligraphieKalligrafie Kalligraphie calligraphy calligraphieKalligrafie Kalligraphie calligraphy calligraphieKalligrafie Kalligraphie calligraphy calligraphieKalligrafie Kalligraphie calligraphy calligraphieKalligrafie Kalligraphie calligraphy calligraphieKalligrafie Kalligraphie calligraphy calligraphieKalligrafie Kalligraphie calligraphy calligraphieKalligrafie Kalligraphie calligraphy calligraphieKalligrafie Kalligraphie calligraphy calligraphieKalligrafie Kalligraphie calligraphy calligraphie Kalligrafie Kalligraphie calligraphy calligraphie Kalligrafie Kalligraphie calligraphy calligraphieKalligrafie Kalligraphie calligraphy calligraphieKalligrafie Kalligraphie calligraphy calligraphieKalligrafie Kalligraphie calligraphy calligraphieKalligrafie Kalligraphie calligraphy calligraphieKalligrafie Kalligraphie calligraphy calligraphieKalligrafie Kalligraphie calligraphy calligraphieKalligrafie Kalligraphie calligraphy calligraphieKalligrafie Kalligraphie calligraphy calligraphieKalligrafie Kalligraphie calligraphy calligraphieKalligrafie Kalligraphie calligraphy calligraphieKalligrafie Kalligraphie calligraphy calligraphieKalligrafie Kalligraphie calligraphy calligraphieKalligrafie Kalligraphie calligraphy calligraphieKalligrafie Kalligraphie calligraphy calligraphieKalligrafie Kalligraphie calligraphy calligraphieKalligrafie Kalligraphie calligraphy calligraphie Kalligrafie Kalligraphie calligraphy calligraphie Kalligrafie Kalligraphie calligraphy calligraphieKalligrafie Kalligraphie calligraphy calligraphieKalligrafie Kalligraphie calligraphy calligraphieKalligrafie Kalligraphie calligraphy calligraphieKalligrafie Kalligraphie calligraphy calligraphieKalligrafie Kalligraphie calligraphy calligraphieKalligrafie Kalligraphie calligraphy calligraphieKalligrafie Kalligraphie calligraphy calligraphieKalligrafie Kalligraphie calligraphy calligraphieKalligrafie Kalligraphie calligraphy calligraphieKalligrafie Kalligraphie calligraphy calligraphieKalligrafie Kalligraphie calligraphy calligraphieKalligrafie Kalligraphie calligraphy calligraphieKalligrafie Kalligraphie calligraphy calligraphieKalligrafie Kalligraphie calligraphy calligraphieKalligrafie Kalligraphie calligraphy calligraphieKalligrafie Kalligraphie calligraphy calligraphie